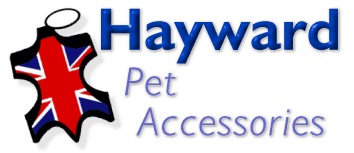 Haywards Pet Accessories was formed in September 1999 when major wholesalers of the pet trade
restructured their companies.
To the left/right you will see our range of Bull Terrier collars, leads and harness, Click for the big picture!
L107 Embossed lead black or tan.

L108 Deluxe lead black.

L109 Oval plate lead black.

C130 Dome stud collar black.

C236 Slimline deluxe collar black.

C140 Heavy brass studded collar black.

C045 Deluxe collar black.

C058 Oval plate collar black.

C135 Embossed collar black or tan.

C146 Shaped deluxe collar black.

H015 Plain harness black.

H016 Deluxe harness black

H017 Embossed harness black or tan.(not illustrated)

H018 Dogs head harness black.
Haywards is a small family run business with many years of experience manufacturing leathergoods for the pet and leisure industry.Our range of collars and leads is quite vast for a small company,from standard rivetted ,plain and studded sewn collars to our range for the larger dogs.Cats are also catered for with various collars,leads and harness.
Manufacturing of these goods has been in Cannock for 17 years and our new premises are easy to find.A phone call or e mail will connect you to friendly helpful advise, details of our location and hours of business.

Haywards Pet Accessories
Tel: 01543 571304
Email: info@4catsndogs.co.uk

Designed, Hosted & Maintained By KeeTech
www.keetech.com